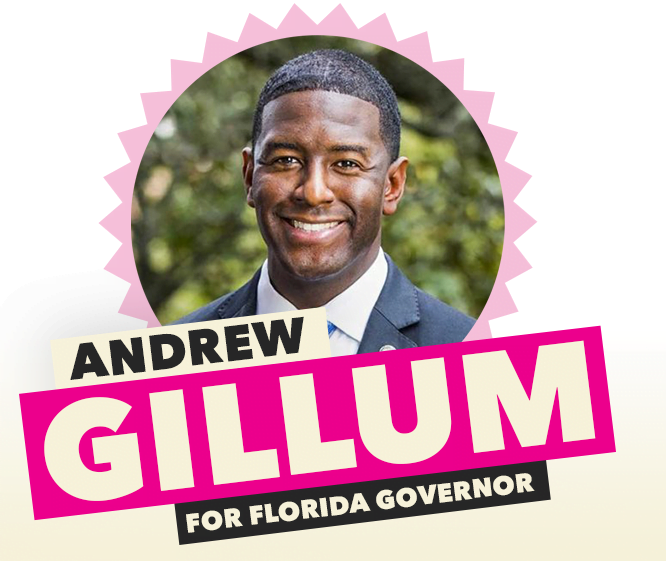 "I unequivocally trust women to make their own health care decisions with their doctor – not politicians – and I'll oppose any attempt to make it harder for women to access quality health care." - Andrew Gillum
Andrew Gillum will fight to:
Defend women's access to quality health care, and make sure they aren't charged more for health insurance: Andrew has stated that he believes that healthcare should be a fundamental right, not a privilege. He has been outspoken about how politicians refuse to acknowledge that Floridians struggle every day to keep themselves and their families from going bankrupt due to the lack or cost of healthcare. He has committed to protecting the Affordable Care Act, that ensures that women can't be charged more for health insurance or denied coverage for so-called "pre-existing conditions" like breast cancer or domestic abuse.
Restore health care security for women and their families by expanding Medicaid in Florida: Andrew has promised to expand Medicaid in the state, which would provide health insurance for over 1 million Floridians. He has stated that he knows that hard working families don't earn enough to meet what their medical needs are and he will fight for their right to access health care.
Protect a woman's ability to access safe and legal abortion: Andrew has promised he won't let the Legislature continue to use women's health as a political football. When Rick Scott and his Republican friends tried to defund Planned Parenthood, Andrew called them out for jeopardizing women's health with ideological games. He is committed to being a champion for women's health and a strong advocate for reproductive freedom.
Make sure bosses and politicians can't interfere with birth control access: Andrew was the only candidate from either party in this race to propose a state law protecting women's access to no-cost birth control. He has stated that he will ensure that neither the government nor their employer can stand between a woman and her doctor in making the critical health decisions that affect her life. He understands the need to protect women's access to no-cost birth control that can save them up to $600 a year.
Ensure women are treated fairly in the workplace and receive equal pay for equal work: Andrew has stated that he will work to protect and encourage women-owned businesses and lead by example to hire the best and brightest women to help lead our state forward. He will prioritize proactive policies like paid sick days, work-sharing, health insurance, mental health programs, safe and clean breastfeeding rooms, on-site childcare centers and subsidies for childcare, which will ensure that families will not face barriers to succeed.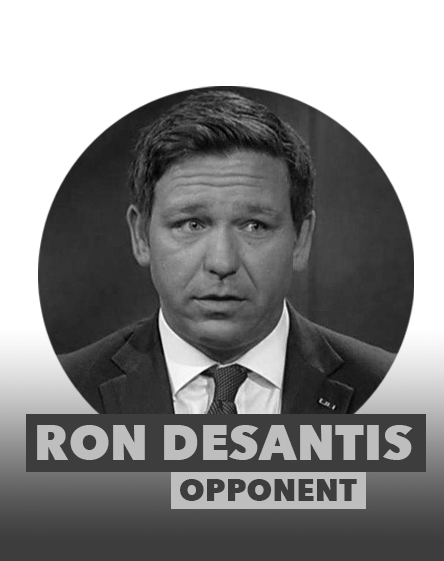 DeSantis is out of touch with Florida women and families.
Given his record while in Congress, it's clear Ron DeSantis is bad for women.
DeSantis has spread lies about Planned Parenthood and openly advocated for "defunding," which would prevent women from accessing affordable health care services such as birth control and cancer screenings. In Florida, over 66,000 people rely on Planned Parenthood for care.
DeSantis voted for the American Health Care Act, a bill that gutted Medicaid which 4.3 million Floridians rely on, stripped protections for people with pre-existing conditions, and would have caused millions to lose health insurance.
DeSantis wants to ban abortion in the state of Florida. He has pledged to sign a six week abortion ban if he becomes Florida's governor. This would ban abortion before most women know they're pregnant. In addition, Ron DeSantis called Kavanaugh's nomination "another great example of the President appointing individuals to the bench that respect the Constitution and the rule of law."
DeSantis claimed "there really is no lack of health care" because there are "medical professionals who go above and beyond" and people can just go to the emergency room for treatment.
DeSantis is an immigration radical who supports Trump's border wall, opposes family reunification "until they are both deported back to their home countries," and has promised to "end all sanctuary cities."
DeSantis opposes common sense gun reform like raising the minimum age to purchase rifles.
VOTE BY MAIL
Sign up to get your ballot in the mail. Complete it out in the comfort of your own home and mail it back!
ELECTION DAY
Join your neighbors at your local precinct and vote on Election Day.
EARLY VOTING
Avoid the wait, cast your ballot in person before Election Day by voting early.
Paid political advertisement paid for by Florida Planned Parenthood PAC, 736 Central Avenue, Sarasota, FL 34236, independently of any candidate.  Not approved by any candidate.