Here's how you can
Support Dr. Kayser Enneking
Volunteer!
Check out our Get Involved page for a list of events and other volunteer opportunities!
Share Your Support
Show your support for Dr. Kayser Enneking on Facebook and Twitter so your friends and family know who the reproductive health champion is for Florida Senate District 8!
"We need a champion for women's health care in Florida Senate Dist. 8! That's why I support Dr. Kayser Enneking. #ReproChampsFL"
Tweet
Vote!
Election Day is Tuesday, November 6th! But that's not your only option to cast your ballot.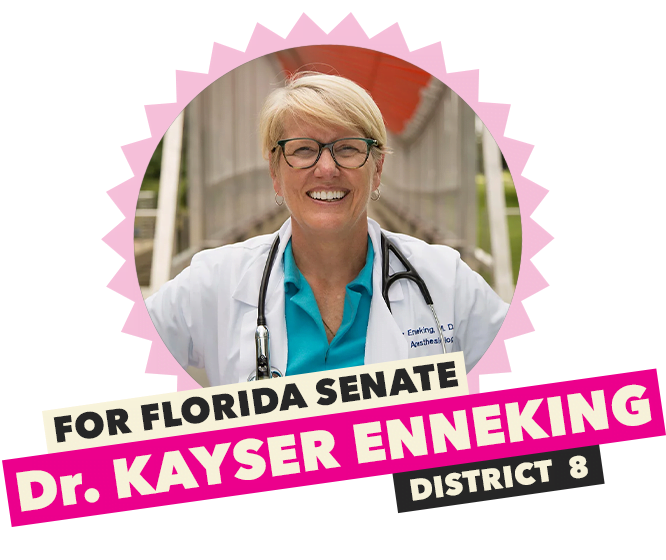 The Florida Planned Parenthood PAC has endorsed Florida Senate candidate Dr. Kayser Enneking in District 8.
Dr. Kayser Enneking is the right choice:
The Florida Legislature should support medically appropriate and scientifically based health care policies, not legislation that imposes unnecessary restrictions on women in order to limit access to safe, legal abortion and shut down health centers. Dr. Kayser Enneking is committed to stopping the assault on reproductive health care in our state and we are proud to endorse her.
Dr. Enneking is the only candidate in the race that supports access to reproductive health care, as well as preventive health care services like affordable birth control. She has affirmed that she will oppose any effort that targets Planned Parenthood health centers for further health care and education funding cuts as well as efforts to eliminate or reduce state family planning services.
It has never been more important to vote in the upcoming November elections. Florida needs more pro-reproductive health legislators to fend off the attacks on our health and privacy rights that are sure to come.
Dr. Kayser Enneking stands with the Florida Planned Parenthood PAC and we are proud to stand with her.
Paid political advertisement paid for by Florida Planned Parenthood PAC, 736 Central Avenue, Sarasota, FL 34236, independently of any candidate. Not approved by any candidate.