Here's how you can
Support Sean Shaw
Volunteer!
Check out our Get Involved page for a list of events and other volunteer opportunities!
Share Your Support
Show your support for Sean Shaw on Facebook and Twitter so your friends and family know who the reproductive health champion is for Attorney General!
"We need a champion for reproductive health as Attorney General. That's why I support Sean Shaw! #ReproChampsFL"
"We need a champion for reproductive health for Attorney General's. That's why I support Sean Shaw!"
Vote!
Election Day is Tuesday, November 6th! But that's not your only option to cast your ballot.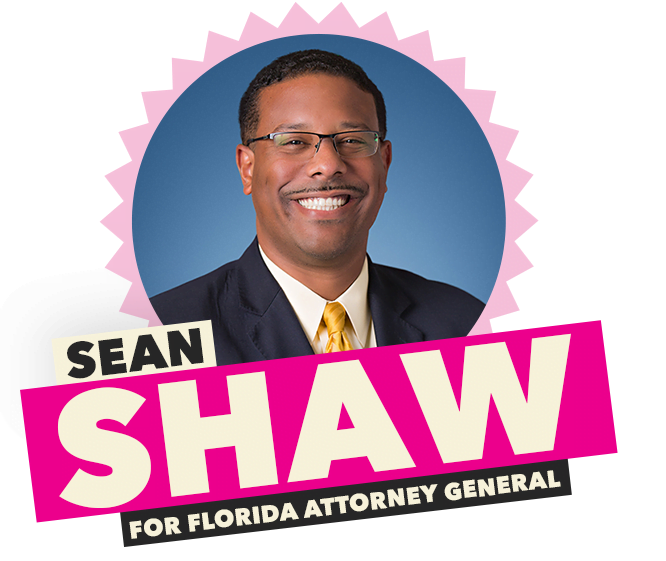 "I believe in a woman's right to choose, and I would do everything I could to fight any kind of unconstitutional infringement on that right to choose." - Sean Shaw
Sean Shaw is the right choice:
We know from the last eight years of Pam Bondi how critically important it is to have a strong advocate for women's health serving as our state's top law enforcement officer. Sean Shaw has a proven record of standing with Florida women and protecting their constitutional right to access reproductive health care.
Sean believes our leaders should not be defunding women's health care: Women have the right to fair and safe family planning services, cancer screenings and health care. Has voted against defunding Planned Parenthood in Florida, a law that was later found unconstitutional by a U.S. federal court.
Sean believes women have the right to make decisions about their own body and health: If and when she ever chooses to become a mother, her family should have access to quality health care and affordable childcare, great early learning opportunities, and quality schools. Has a 100 percent voting record that supports access to abortion care, rejecting any attempts to pass medically unnecessary and burdensome restrictions on abortion providers.
Sean believes women should have access to birth control: Supported legislation that expanded access to birth control through affordable family planning services.
Paid political advertisement paid for by Florida Planned Parenthood PAC, 736 Central Avenue, Sarasota, FL 34236, independently of any candidate. Not approved by any candidate.