Dear Supporters,
We came so close to winning it all.
And it's all because of you. 
Women, men and teens across Florida were more engaged than ever in this midterm election after numerous attacks on their access to health care and reproductive rights. Last night we saw how women's health and reproductive rights galvanized voters, particularly women, to the polls and helped wrest control of Congress from radical Republicans who have been attacking women and families since they took power.
The Florida Planned Parenthood PAC went all in this election and with your help this is what we accomplished: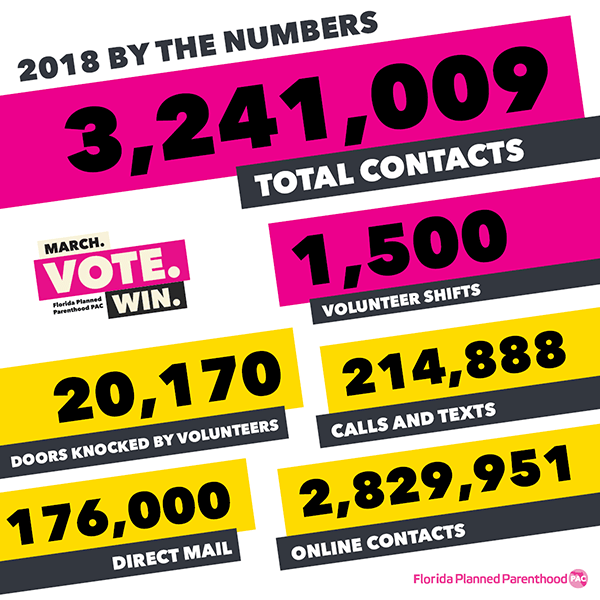 Side by side, arm in arm, we've worked together, marched together, knocked on doors and voted together. While we suffered heartbreaking losses in some record close races statewide we are also celebrating historic victories!
With the passage of Amendment 4 a long struggle to restore voting rights to more than a million Floridians was realized.
Great women and champions for reproductive rights, like Anna Eskamani, the first Iranian-American elected in Florida, won seats in the Florida Legislature.
And it was many great women candidates who helped to tip the balance in the United States Congress so we will finally have some grown up oversight of the White House.
To have worked so hard and come so close is hard. As I write this, there are still races up and down the Florida ballot that are too close to call and will have major implications for the Florida Cabinet, the Florida Senate and the U.S. Senate.
Thank you for standing with us and declaring unequivocally that we will not allow politicians to continue turning back the clock on women's access to health care. This time, we came up less than one percent short in some critical races. But I know we'll bounce back twice as determined and twice as energized and we will be unstoppable in 2020.
With gratitude,
Laura Goodhue
Campaign Manager
Florida Planned Parenthood PAC
P.S. A complete list of candidates that were endorsed by the Florida Planned Parenthood PAC may be found on our website.