We're Out There Making a Difference – Primary Campaign Debrief
Wow! What a wild ride the last few weeks have been! One of the best things about working at Florida Planned Parenthood PAC is that we have volunteers, staff, and organizers involved with us year-round. There was no better example of our force and sheer volume than on June 24th – the day that Roe fell. Within mere hours of the announcement, we had over 600 people on an organizing call and ready to take action. Speaking as the Campaign Director, the amount of concerned, dedicated and energetic volunteers was astounding and helped us hit the ground running on June 25th with our door-knocking and phone campaigns.
I am proud to say we were the first independent expenditure campaign on the ground in Florida – working independently from an individual candidate to elect the folks whose values aligned with ours. We immediately put our "people power" to work in key districts. Because campaigns are expensive – Florida being one of the most expensive markets – we had a very detailed plan to flip key districts for pro repro health candidates. Of course, we would love to have been able to spend money on all races up and down the ballot, but we know the path to reproductive health freedom lies in the Florida House and Senate.
We focused our GOTV efforts on three primary house seats and one primary senate seat and we delivered!
Our canvassers never took a day off – while dealing with Florida's hot and stormy summer weather they spoke with 32,431 voters, knocked on 114,385 doors, and made over 6,000 phone calls. These numbers may not resonate as important without some context, so let's take a look at HD 109 in Miami.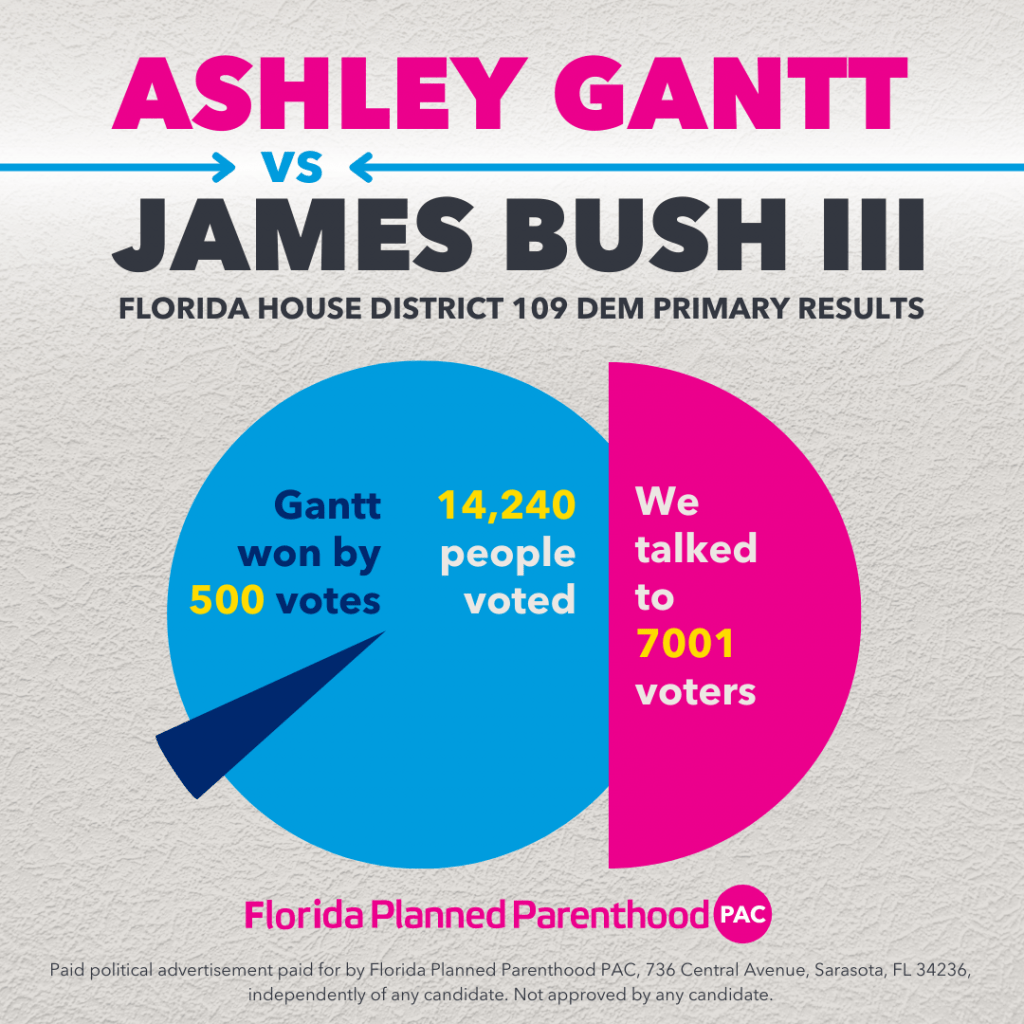 In Ashley Gantt's race, our team spoke to 7,001 voters. 14,240 people voted in that race and Ashley won by just under 500 votes. These numbers mean that we're making a difference in these key races because our supporters are speaking to voters and the voters are getting out and voting!
In the Jacksonville area, our GOTV efforts promoted both Angie Nixon (HD 13) and Tracie Davis (SD 5). Both these women crushed their opponents by coming in with 88.6% and 68.1% of the vote. The demographic data is not in yet, but I am positive that our Planned Parenthood Generation Action members got the college-aged and young adults out to vote!
How can I forget to mention that with Ashley Gantt's win, we got rid of Rep James Bush III? This win, and his loss, should be celebrated! Bush was a Democrat in sheep's clothing, siding with Governor DeSantis and attacking LGBTQ+ and abortion access in Florida. We look forward to helping Ashley Gantt make her way to Tallahassee in November.
Going forward to November
I write this as I'm on a bus traveling to meet up with our partners in the reproductive freedom movement in Florida. I am energized because I know that the Planned Parenthood reputation and messaging is resonating with Floridians. Just yesterday the Democratic nominee for Governor, Representative Charlie Crist was using our talking points and thanking us for our support. In fact, retweeting our endorsement was the very first tweet Crist sent after delivering his election night speech.
People know us, people need us and we are delivering the votes.
Lauren Brenzel, Organizing Director
Florida Planned Parenthood PAC